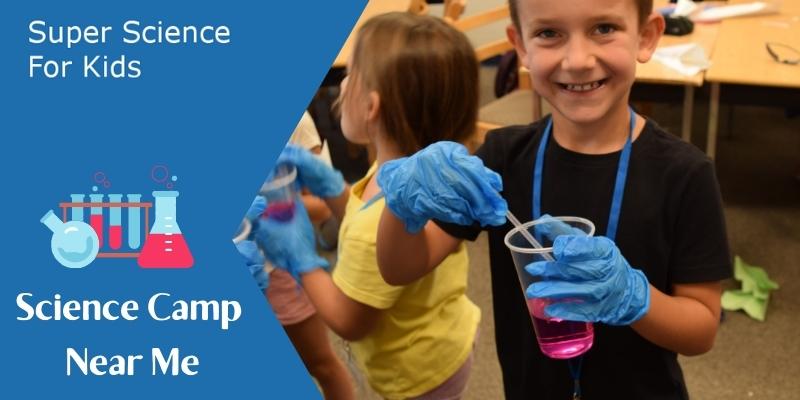 The abilities that you will require in the future have undergone significant development in recent years. How do we ensure that our kids have the best opportunity of succeeding? Our list of the top 7 advantages of STEM summer camps has been narrowed down. To discover what they are, continue reading. In terms of scientific and math education, the US is now rated 49th in the world. It appears that we require assistance in igniting interest in & support for the issues that are altering the course of history. That's where STEM education has advanced significantly over the last few decades as we struggle to give children a fun and productive learning environment. A lifetime love of learning can be instilled in your child through STEM summer camps, which are both informative and entertaining. We'll explain why in a moment. If you want to enroll your kid into a STEM camp, then look for a science camp near me.
WHAT YOUR CHILD WILL GAIN FROM A STEM SUMMER CAMP
STEM fills the gender and racial gaps that are typically present in math and science. The goal is to instill a love of learning in your child by developing an inclusive, ability-neutral teaching method.
The key advantages of STEM education are:
1. IT DEVELOPS PROBLEM-SOLVING ABILITIES
One of the main soft skills demanded by companies nowadays is the ability to solve creative problems. There is never a bad time to begin developing that skill. Your youngster will be assessing circumstances and attempting various techniques to come up with a solution rather than memorizing facts for a test.
They understand the method and can put it into practice by applying it to various challenges at camp. If you want your kid to develop problem-solving abilities, then enroll your kid in a science summer camp.
2. THEY CAN USE THEIR KNOWLEDGE BY ATTENDING STEM CAMPS
We have witnessed education adjust to the various requirements of children, which is one of the largest changes in learning. Science camp for kids uses a hands-on approach because we all learn in different ways.
Every day, your kid is not only picking up new knowledge but also applying it in ways that help them remember and retain it better. The days of studying lengthy book chapters and making notes while paraphrasing them to learn something new are long gone.
3. IT PROMOTES INNOVATION AND CREATIVITY
There are many ways to encourage creativity in your child, but STEM does it in a way that connects inventiveness and creative thinking. Teach your youngster to connect science, technology, engineering & math to find a wide range of possibilities.
Your kid can discover the topics & activities that interest them because creativity in STEM fields gives rise to so many varied interests and ideas. So, what are you waiting for? Start searching for a science camp near me and enroll your kids today.
4. YOUR CHILD WILL LOVE LEARNING IF YOU DO THIS
We all attended school, so we are familiar with the procedures. Children's interest in school may decline as it becomes more difficult. The science summer camp combines learning and enjoyment with other campers to genuinely promote a passion for learning.
You may encourage your child to like education by demonstrating to them that it can be engaging and fun.
5. THEY ACQUIRE TEAMWORK SKILLS
Your child can strengthen their social skills with their classmates while attending science camp for kids without the influence of parents. Sharing ownership of a project gives children crucial skills like collaboration and communication.
As youngsters communicate and defend their ideas and conclusions, learning is made more successful by the diversity of skill sets present in a group. They will understand that effective communication is essential to finding solutions and deciding how to proceed.
6. STEM SUPPORTS EXPERIMENTATION AND PERSEVERANCE
The emphasis on failure as a positive experience is one of the amazing advantages of STEM education. Your youngster will learn to experiment with numerous ways until they come up with a solution rather than concentrating on memorizing the correct response.
Your child will develop risk-taking skills and learn from mistakes. In this manner, a challenge turns into a benefit as they advance toward the ideal resolution.
Your child will gain from this resilience as they move through the educational system because they will associate persistence with achievement. This effectively demonstrates to kids that even if you don't understand something right away, you can still master it.
7. A DEEPER LEARNING EXPERIENCE FOR YOUR CHILD
The many methods of knowledge learning help your youngster understand the fundamentals on a deeper level instead of memorizing them, as we've explained throughout this essay.
After receiving hands-on instruction, your youngster will comprehend how things operate and relate to one another. The knowledge is assimilated in a more significant way as they interact with and put what they have learned to use. If you want your kid to have a deeper learning experience, then start looking for a science camp near me.
THE JOURNEY OF YOUR CHILD TO LOVE LEARNING
Your kid will have acquired the necessary abilities to enjoy their educational path & a passion for important subjects by the conclusion of the summer.
For the United States to continue to be a global leader in technology and innovation, STEM is essential. By giving your child these abilities, you enable them to feel at ease in a world that is always changing.
Perhaps the innovations your child develops will be beyond what we can currently imagine. The only method we are aware of is to provide them with the ability to think creatively and apply their learning to various projects.
Conclusion:
It may seem unnecessary to spend money on summer camps and children's activities. But in these science summer camps, kids gain so much value. This includes maintaining knowledge, enhancing social skills, gaining independence & confidence, and advancing one's job. These advantages are invaluable.
Now is the perfect moment to enroll your child in STEM classes if they haven't already. The science camp for kids at Super Science may be the ideal place for your child to begin their STEM journey, thanks to their patient coaching and easily available materials. We carefully and methodically introduce STEM to all students, ensuring that they are prepared to succeed in the course or camp they have chosen. Give us a call at (908) 684-2383. You can also mail us at danbweissman@aol.co