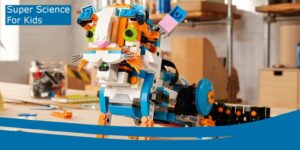 Are you looking for a fun and educational way to keep your kids engaged during the summer break? Robot camps for kids are the perfect solution! These camps provide a unique opportunity for children to explore their creativity while learning valuable skills such as problem-solving, critical thinking, and teamwork
In this blog, we'll explore the benefits of Robot camps and how they can help your child unlock their full potential.
Robot Camps for Kids:
Robot camps are another great way to help children develop their creativity and problem-solving skills. In robot camps for kids , children learn basic coding skills, which allow them to think logically.
Robot camps for kids encourage children to think creatively and come up with innovative solutions. In addition, completing a robot project gives children a sense of accomplishment and boosts their confidence. They learn that they can achieve anything they set their minds to with hard work and perseverance.
Creative Challenges Robot Camps
Robot camps often include creative challenges to encourage children to think outside the box and develop innovative solutions. For example, these challenges may involve building a structure that can withstand earthquakes or programming a robot to navigate a maze. These challenges help children to develop problem-solving skills and encourage them to think creatively.
Make the Most of Your Child's Summer!
Summer is a time for children to relax and have fun, but it's also an excellent opportunity to learn and develop new skills. By enrolling your child in a Robot camp, you can help them to make the most of their summer break. Here are some tips for making the most of your child's summer:
Start planning your child's summer activities early to ensure that they have a well-rounded experience.
Don't limit your child to one type of activity. Mix it up with various camps and classes to keep things interesting.
Encourage your child to explore their creativity by giving them opportunities to create and innovate.
Remember, summer is a time for children to have fun. Ensure your child enjoys their summer activities and feels safe and relaxed.
Choosing the Right Robot Camp
When choosing the right Robot camp for your child, it's essential to consider their interests and skill level. Some camps may focus on themes or projects, such as space exploration or robot building. Others may cater to different age groups or skill levels, offering beginner, intermediate, or advanced programs.
Research different camps in your area and read reviews from other parents and children to find the best fit for your child.
The Bottom Line
Are you interested in giving your child the gift of science education and fun? Look no further than Super Science for Kids! The robot camps for kids here provide a unique and engaging way for children to explore the world of science while having a blast. From hands-on experiments to interactive activities, your child will learn valuable critical thinking, problem-solving, and teamwork skills. So take advantage of this fantastic opportunity!
Enroll your child for robot camps today at  super science for kids  and watch them discover the wonders of science.