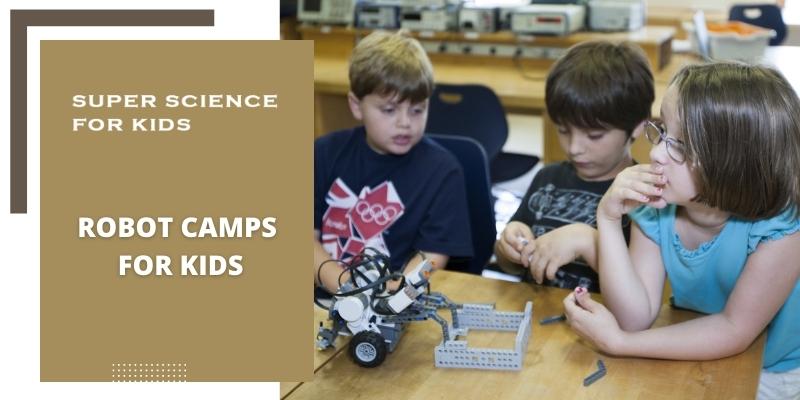 Summer camps for kids are one of the best ways to prepare them for a great future. It can teach them a wide set of skills that will come handy later in life. Science programs for kids are a great way to promote STEM learning among students. Not just that, robot camps for kids can also help them prepare for a career in robotics.
Robotics is an important part of STEM learning. And, robotics is now used in a wide range of industries including manufacturing and defense sectors. Which is why, a robotics camps for kids can help them create a strong foundation for future.
Find out more about it here.
Robotics and STEM Learning
Robotics and STEM learning go hand in hand. STEM stands for Science, Technology, Engineering and Math. It has become an important part of school learning now. Courses are also available for kids and adults too. For kids interested in science, STEM and robot camps can help them in many ways.
STEM learning is a learning system that helps kids learn topics from Science, Technology, Engineering and Math. This way, kids can learn complex topics in an easy way and decide what they want to do in the future. It includes designing, programming, building and more. All these things can help kids learn more effectively.
Robot Camps for Kids
Robot camps for kids are designed to provide them with unique opportunities to learn robotics. It is different than school learning as it is more fun and engaging. Additionally, kids learn skills like teamwork, creativity and innovation and it also builds confidence. Kids learn from expert teachers who have experience as well as qualification on various subjects.
One of the many benefits of robot camps for kids is that it is a fun way to learn things. Kids who love science will find similar minded kids there. Plus, they will learn about different topics with games, puzzles, activities and experiments. This type of learning is more engaging that classroom learning.
Importance of Roboto Camps for Kids
Wondering why you should send your kids to robot camp? Consider the benefits of science camps for kids. Summer camps are one of the best ways to spend the free time. If your kid loves science and wants to make a career in it, you can give them a great chance to develop a strong foundation with a summer camp.
Here is how a summer camps for kids can help:
Most of the science camps for kids are STEM-based. STEM learning is important for kids today. It can help them get a great early start, especially for kids who are already interested in it. It will take STEM learning further than what is taught in schools. Camps are more engaging than classroom learning.
Summer camps for kids can encourage them to make a career in STEM. By introducing them to topics in robotics, parents can generate an interest in science. Most of the curriculums are designed to encourage students to make a career in STEM. Kids that get early start are more likely to choose a career in science.
Robot camps for kids are a great way to create a strong foundation for them. Camps are more fun and engaging then classroom learning. There is no pressure and they can learn many things in camps. If you want to give your kids a great start then sign them up for a science programs for kids.
Fun and Interactive Learning
Camps are fun and interactive, which makes learning more entertaining for the kids. They can take part in activities, such as experiments and games. This is one of the best ways to get your kids interested in STEM learning. It will also give them an opportunity to learn a wide range of skills.
The Bottom Line
Robot camps for kids are designed to help them learn more about STEM. Robotics is a great career choice and if your kid has the inclination towards STEM learning then a summer camp is a great way to start. Science programs for kids include robotics camps where they will get to learn a wide range of topics and skills. And, they will have a lot of fun.
Super Science for Kids offers robotic camps for kids and science programs for kids. We organize summer camps for kids who are interested in STEM learning. Our team comprises of experts who are highly experienced. Kids learn in a fun and engaging way in camps. We have a wide range of summer camps for kids. Check out the details here – https://www.superscienceforkids.com/our-programs/