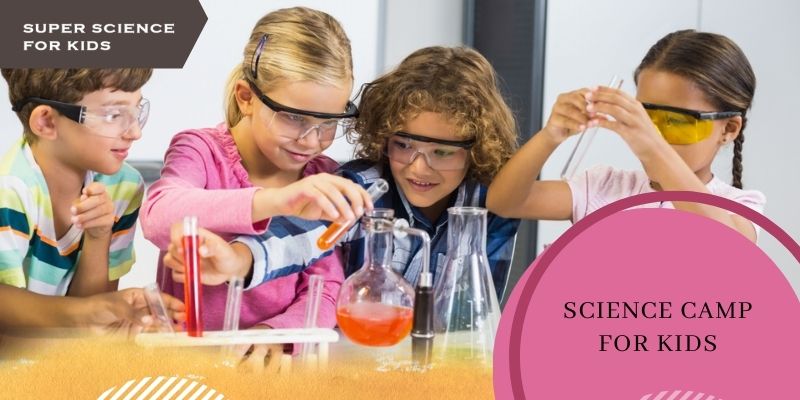 Introduction
A normal birthday party involves 3 things: A cake, some presents, & lots of balloons. However, when talking about a science themed birthday party, it could be a hassle for most parents. But, it doesn't have to be so. Parents might want to avoid these hefty preparations and make do with science camp for kids. But, trust us, the process couldn't be simpler than reciting A, B, C, and D.
How is a science-themed birthday party different from others?
It is your kid's birthday, and you want to do something special. For most, a birthday party means some bouncy houses and clowns that uplift the kid's mood. But, with a science themed birthday party, you need to do much more. Remember, kids are playful, energetic, & curious by nature. As a parent, you need to tap into the untapped territory with science as a medium.
All you need to do is create an engaging and fun setup. Then, the rest will go with the flow. But, how would you create something interesting with science as the theme?
Here are some tips to help you be the best parent and host of a science program for kids.
Ideas for Birthdays with Science Theme
Days will fade away, but memories are here to stay. So, it would help if you created something memorable for your child as a parent. What can you do that helps your child learn while having fun? Yes, you can get them enrolled at a science camp near me. But, wouldn't it be better to create the feeling of a science summer camp right in your backyard?
So, let us check out some tips that will help you impress your child and the guests at the party.
Choose a Science Center as Venue:
If your child is bored of the generic backyard as a party venue, you need to think of something new. To do so, search for a science birthday party near me and check out locations that allow the same. For example, several science centers will allow you to book the venue for a birthday party. In addition, a close-by museum is a perfect setup for such birthday parties.
If this is too much work for you, the key is to avail of teams that help organize science camps for kids. These teams also help set up an amazing science themed birthday party. Science helps improve a child's cognitive abilities. Hence, birthdays with a science theme would be perfect for helping your child learn.
A Unique LEGO Brick Party:
Science is the basis of life. All we create, build, and experiment with, comes from science. So, how about a birthday party with LEGO Bricks? Yes, you can find some LEGO bricks at your local store. But is it worth spending so much on something that won't be used regularly?
So, don't put your hard-earned money on something that would be lying on the shelf until your next birthday. Instead, save your money and hire someone to get the job done for you. You can search online for organizers that provide services for science camp near me.
All you need to do is give your requirement details and make the payment. The rest is handled by an efficient team with years of experience organizing a science themed birthday party.
These teams take care of your kid's science party requirements from initiation to the end. If you are one such busy parent, these teams will help bring a big smile to your kid's face.
Colorful Slime for Unlimited Fun:
Search for the most trending activity for science camp for kids, and slime is the top-ranking option. The bright and vibrant colors will keep the kids engaged and entertained simultaneously. Make sure you dedicate a space for making slime. This is because creating slime can be messy. You wouldn't want to end up scrubbing the floor after the party is over.
Make sure you have enough ingredients with you for the party. You wouldn't want some kids to be devoid of the fun, right? If you are unsure of things, getting help isn't bad. Look for dedicated teams that provide services for science camp for kids. You can also plan a return gift with slime-making ingredients for kids.
Mini DIY Volcano:
Another idea you can experiment with is creating a mini DIY volcano. Your kids would love the way common kitchen ingredients can help create a volcano. Check out some quick volcano recipes online on websites dedicated to organizing science camp for kids. The simplest recipe your kids can try is a combination of baking soda & vinegar.
Make sure you are ready with the cleanup process as the bursting volcano can spew liquid all over the space. If you don't have a lot of time for the cleanup, make sure you hire a team to get it done. Camp organizers for science birthday party near me can help you make your kid happy.
It's All About the Solar System:
To bring an artistic twist to the party, you can create some solar system models. Better yet, bring in ingredients to help your kids make it themselves. You can easily get these ingredients, such as acrylic paint, Styrofoam balls, glitters, and more. This can be a starter for the party. It will help the kids get into the mood to party hard while learning.
Yes, creating something can be messy. But, your kid would learn a lot in the process. For example, if your kid doesn't like science camp for kids, this will motivate them to learn science. Then, the next time you talk about science camps, your kid will be happy and excited.
Gift Some Science Kits:
You can welcome your kid's guests and friends with an awesome science party kit. Pack in the basics into this kit. This will ensure that your kid and friends feel like mini scientists. Next, you can visit the local thrift store to find some cute-looking kid-sized lab coats. Next, get some protective eyeglasses to give in the sense of safety.
Some favorites of science kits are eye droppers, magnifying glasses, & tweezers. You can also add a copy to help the kid take some notes. Do not forget to add some colored pencils to make it fun. This will get the kid into a habit of maintaining science journals. If you are confused about getting the party started and organized, hiring help is recommended.
Hiring a team to organise a science-themed birthday party will make things easy. Moreover, it will help you save up on unwanted expenses. And most of all, time is money! So, a team will also help save a lot of time.
Do Not Forget the Snacks:
When everything in the party is science-themed, why not the drinks and food as well? Kids get hungry very fast, and you need to give them amazing snacks to keep up the mood. Science can also happen within the kitchen. Start the science program for kids with some fizzy lemonade.
Next, follow it up with some frozen and sweet watermelon pops. Next, you can create beautiful buildings with snacks and cakes and let your kids play Jenga. Finally, end the day with some slushies with bright colors.
Explore the 5 Senses:
A big part of any science camp for kids would be exploring the 5 senses. You can make fun games and help your kid explore their biological side. For example, you can place some objects in different bags and ask the kids to identify them with touch. Please make sure they are blindfolded while playing this game.
Now, focus on the next sense, which is sight. Here, you can opt for a scavenger hunt game. First, hide some things in areas that make it hard to find. Then, follow the camouflage protocol and gift the one who aces the game.
Similarly, you can plan other games focused on brushing up other senses. However, if you have trouble with creativity, seeking help is an ideal solution. You can ask your friends or family for recommendations. Better yet, hire professionals that organize science summer camp or science program for kids.
How About Some Glow-in-the-Dark Crystals?
You would never believe how easy it is to create glowing crystals with simple ingredients. These ingredients can be found at your home. All you need are:
Fluorescent Highlighter
Water
Alum (Pickling Spice)
As this game involves scissors, you might have to guide your child. First, cut the highlighter & remove the ink strip. Make sure your child uses gloves while doing this. The color can stain the fingers. Next, take some hot water in a container and squeeze out the color strip. This will help release the ink that has fluorescent properties.
Throw away the strip leftover. Next, slowly mix in the alum. Make sure you don't pour in all at once. Instead, please do so, a little bit at one time until it cannot dissolve anymore. Now, allow the jar to sit overnight. Ensure that it is covered with a paper towel or coffee filter. You can see small crystals forming at the container's bottom. You can remove them as it is or allow them to grow bigger by letting them sit for more.
Now, switch off the lights in your room and watch the crystals glow beautifully. Finally, you can explain to the kids the magic behind this phenomenon. Making sure your kid understands why it occurs is the essence of a science program for kids.
Create Simple Yet Functional Machines:
Any science birthday party near me is impossible without learning the functionalities of machines. How does a machine work? This is something your kid can learn on their birthday. It doesn't have to be boring. Rather, you can make it fun by explaining what each part does to help the machine.
For example, you can create a large catapult and explain to your kid how it works. Additionally, you can create a hand-crank winch or zipline to pass toys to and fro. You can also help your kid make a parachute and explain how it comes down. You can also organize a cardboard-based marble run to add some fun elements.
It's All About Creativity + Fun
From boxes to painter's tape and egg crates to old CDs, science can help your kid create something innovative. While learning science, your kid can learn to work independently or in a team. If they invent something cool, it will help boost their morale. You can also keep a scoreboard and reward the best performance.
With a science camp for kids or a science program, you can turn the budding children into young scientists. Make sure you teach your children that there are no winners or losers here. The key is to have fun while learning something new.
Conclusion
For parents struggling to find something interesting for kids, a science program for kids could be perfect. But, if you struggle with organizing capabilities, help is here! You can hire a team dedicated to organizing science camps for kids. They can help you decide on venues, themes, games, decoration, and more. All this and more can happen within your budget.
From crime scene investigations to STEM challenges, Super Science for Kids is just what you need for your kid's birthday. Our team's effort helps build leadership skills in your kids, along with laying grounds for budding friendships. In addition, our efforts provide your kids with enhanced exposure to science-related information and facts. So, it's time for you to plan your kid's science camp or birthday program with Super Science for Kids. To know more about our upcoming events and programs, you can mail us at superscienceprogramsforkids@gmail.com. You can also dial us at (908)-684-2383.