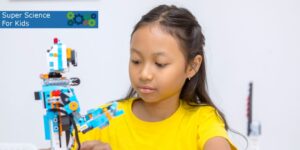 Needless to say that robotics is our future. Hence, robotics is making its way into more and more houses and classrooms. Robotics is an amalgamation of science, engineering, and technology. Excelling in robotics demands having a basic knowledge of engineering, programming, and technology.
Although it might seem only for the most intellectual science geniuses, robotics isn't confined to the professional field nowadays. Robot camp for kids is organized by educational institutions or others even at primary schools. Read on to understand our point of view of why kids should starting learning robotics right from 5 years old.
Decoding Robotics Summer Camp
The point of intersection that connects science, technology, and engineering together is where robotics enters the scene. Robotics encourages students to construct machines, termed robots. Robots are basically human replicas aiming to perform manual tasks for us.
At robot camp for kids, young students are introduced to this interesting topic through hands-on guidance and age-appropriate way. Get the chance to code & design robots as the scientists do. When you enroll kids with a reliable institution hosting science camps, rest assured, knowing that they're learning in a fun environment. Their creativity will be at its peak, allowing them to think outside of the box.
Why consider a robotics camp for your child?
Parents and children have their own set of reasons to love robotic camps during the summer holidays. Well, the reasons extend beyond just being in a fun and stress-free atmosphere for both. Read on to understand why robot camp plays an essential role for our children.
1.     Futuristic Approach
No, we aren't only concerned just about our future altogether, but also about how the job market is going to be in years to come. It's not a dystopian vision but an intriguing reality. Al and robotics have already found their way into diverse fields such as manufacturing, exploration, medicine, transportation, analytical and computational tasks, GPS, household chores, and many more. With the passage of time, its use is only expected to increase exponentially.
Rather than gobbling up our jobs, these robot and AI-based products are creating an altogether different job market. Rest assured, their emergence isn't a threat but a golden opportunity. And robotics camp might help your child form a career in this particular niche.
2.     Simplifies complex ideas
One cannot figure out the essence of robotics by simply learning robotics. A vast array of subjects such as science, math, engineering, and design also comes as part and parcel of robotics. These subjects altogether can even make an adult's mind swing, not to mention a child's.
Kids might not even realize that they're brainstorming to understand a complicated subject, but do it anyway!
3.     Robotics amplifies coding
Robots run based on the commands it receives, which are mostly pre-coded. Except if it's controlled in real-time. However, even in that case, it requires pre-programming to carry out certain tasks at the click of a button in real time. Hence, robotics and coding go hand-in-hand, like toys and children.
One can hardly function without another. Hence, robotics is a great aspect to explore if your child wants to comprehend coding easily as a young kid.
4.     Practical skill development
As mentioned above, it's an interdisciplinary field. However, instead of being a host of fun teaching of several sciences, it also promotes the growth of soft skills. Below mentioned are a few of them:
You can train creativity best by moving between open and closed modes in your brain activity. Robotics and programming are skills that support both approaches: the more open and playful (open) mode as well as the more constraining and narrow (closed) mode. In fact, one of the finest methods for teaching these two modes is through play-based learning.
Design thinking is a solution-oriented approach that teaches to address unfamiliar difficulties with flexible patience and perseverance, escorted by analytical thinking. One can apply this concept to any aspect of human life.
Collaborating with fellow campmates at robot camp for kids, children learn the essence of teamwork. It's one of the best ways to inculcate the habit of respecting others' opinions in a team while retaining your unique perspective on a matter.
Creating something completely unique and genuine by pushing your creativity to the highest level is a different feeling of satisfaction altogether. And let's face it- we've seen the sparkle in the eyes of children when they discover the simplest of things for the first time. The scholars impart robotics education to encourage interaction and questioning during the session.
5.     Eliminates the fear of not understanding technology
Children are ever-ready to exit a subject of discussion that they immediately don't understand or don't enjoy. "I don't get it," is all that they have to say. Well, this kind of frustration is not uncommon among children. However, in a robotics camp, a child isn't easily propelled or frustrated by the idea of unfamiliarity.
The idea of encountering an unknown task and solving it through robotics is the driving force that encourages children to opt for robotics and coding. And within the blink of an eye, the notion of unsolvable becomes extinct. In this way, robotics camp converts frustration into eagerness and ultimately into innovation.
6.     Extremely fun
Perhaps, it goes without saying that robotics camp is one of the most entertaining yet productive sessions your child will ever attend. Robotics camp sends your child on a rollercoaster ride where he's constantly in a state of suspense about what the end result will be like. The excitement reflecting on the child's face stands as a witness to their belief in the curriculum.
Conclusion
In the present world scenario, parents are extremely worried about the increasing screen times of their children. Well, it has to stop, but not forcefully. You got to show your child that there are other interesting stuff out there. Robot camp for kids is a great way to keep your child entertained yet prepare them to face competitions in the future.
To put it another way, a robot enables 'invisible' technology to become a tangible item, bringing it much closer to children's understanding and, in turn, bringing them closer to the physical side of new technology products.
Super Science for Kids brings you a wide range of programs to choose from. Our assignment-based activities are aimed to hone the students' skills across science, technology, coding, and engineering. We've devised a fun approach to introduce complex subjects to kids without the risk of sounding complex and unsolvable. For further queries, reach out to us via mail at danbweissman@aol.co or call us at (908) 684-2383.