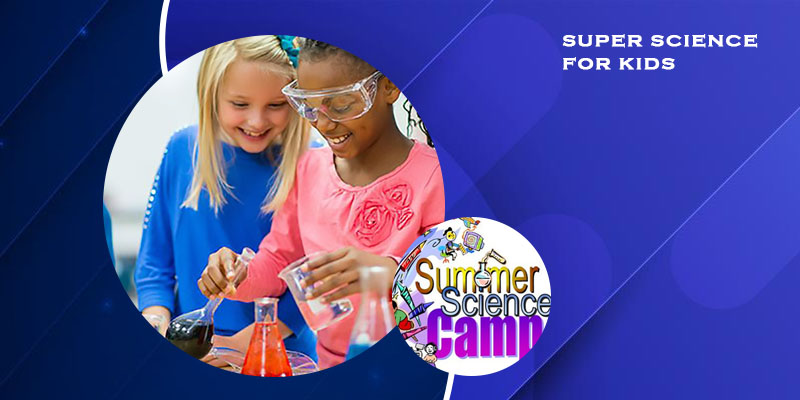 Standard classes tend to focus on the theoretical aspects of science which might get monotonous and boring for some kids. However, science camps tend to focus on the fun and practical aspect of things which make it a fun experience for budding minds. So, if yours is a kid that is interested in science but fumbles when it comes to an understanding of the basics, a science camp could be of great help. You can find several reliable camps by typing in science camp near me on the Google search engine.
Modern-day science summer camp tend to focus on making things interesting for the future generation that has a short attention span.
So, let us take a look at some fun summer camp experiments your kid can indulge in.
Science Experiments for your Kid's Unique Camping Experience
Flubber/Silly Putty:
Kids love to experiment with something that is fun to play with. And, what could be more fun than playing and making your very own substance that isn't a liquid or a solid but acts like both. There is an easy procedure to prepare a flubber or silly putty, but both of them teach your kid the right ways to use chemicals and the way they react with one another.
It is a fun way to learn chemistry and physics when you enroll your kid on a science camp for kids. For this procedure, you need materials that include:
White Glue
Borax
2 glass jars
Water
Cup
First, fill your glass jar with 4 cups of freshwater. Now, add 1/4th of a cup of Borax. Stir this solution until the Borax completely dissolves. Take the second jar and mix a cup of water along with a cup of white glue. Now, tighten its lid & shake the jar thoroughly until it is mixed. In case you wish for a colored flubber, you can add some food coloring/paint before you start mixing the water and glue together.
In order to complete the preparation process, pour a cup of the prepared Borax and water solution into a cup. Now add 1/4th cup of glue to this solution. Start stirring it with the help of your finger. The glue-based mixture would start to thicken immediately after it comes in touch with Borax. Finally, remove this putty & knead it properly to achieve a smooth and finished texture.
Also Read: Long-lasting mental benefits of science summer camp for children
The final result obtained can be bounced, squished, stretched, & dripped without losing the texture.
Glowing Goo/Glowing Slime:
Learning how to make the DIY glowing goo can be just another way to learn the beauty of chemistry. In this particular science experiment, your kid would learn the tips and tricks to explore the chemical reactions, fluorescence action, and their interaction with polymers while preparing an amazing glowing slime.
The glue used for creating this experiment is a polymer solution called polyvinyl acetate. When you add some Borax to this glue solution, its polymer chains start creating something that seems like a spider web or net. This is termed a "cross-linked polymer" that can be stretchy and mimic slime.
This creation would glow in the dark as it consists of phosphors that are extracted from a highlighter ink. Phosphors are essentially chemicals that have the potential to absorb and then release light energy. In this particular experiment, the phosphors are fluorescent in nature. This means they release the light very quickly & don't retain the glow for a long period.
When these phosphors release light in a slow manner, it tends to create a glow that lingers in a way similar to that of glow paint/glow stars. This phenomenon is termed phosphorescence. Using black-coloured light can be a great method to demonstrate the presence of phosphors. Blacklight tends to release UVA and UVB radiation that is similar to the ones released from our sun. However, it isn't as harmful.
When the UVA radiation falls on objects that contain phosphors, they start to absorb this invisible light & turn it into visible ones. This is the glow that you can see with your glowing goo.
Read More: How to Find a Science Camp near Me?
Play Dough:
Playdough is an amazing option for kids to learn the art of crafting while learning the essence of scientific experimentation.
These are the essential ingredients you must have:
Salt (One and a half cups)
Flour (3 cups)
Oil (3 tablespoons)
Cream of Tartar (6 tablespoons)
Water (3 cups)
First, start by dissolving the salt in a bowl of water. Pour all the ingredients into one big pot. Stir this mixture constantly over a medium heat setting until it forms into a ball-like consistency and starts to pull away from its sides.
Knead this dough mixture with the help of your fingers until its texture is similar to the play dough. Do this for a minute or two. Store the dough in a plastic container and seal it tight. This would make it last for a minimum of 3 months.
Conclusion
This is just a part of the plethora of fun experiments your kid will partake in after they enroll for the science summer camp. It is a fun way to learn all about the basics of science without making it seem too boring or monotonous. So, the time is now to get your kid enrolled on the best science camp for kids and make learning easier and fun for them.
Are you looking for the best science summer camp for your kid? Well, Super Science for Kids is here at your service. Our programs are taught by highly qualified teachers that make the Chemical Wizardry classes seem like an experience from the Harry Potter movie. To know more about our summer science camp, write to us at danbweissman@aol.com or give us a quick call at (908)-684-2383