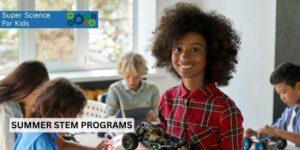 Science programs for kids are designed to benefit them in many ways. It not only helps them understand the concept of a particular subject like chemistry. It also helps build various skills like creativity and building structures. This includes LEGO camps for kids as well.
Summer STEM programs include LEGO camp which is an excellent way to introduce your kids to the world of Lego building.
Lego is a very popular brand with a huge selection of construction toys. Today, LEGO has become a very popular thing, not just for the movies but as STEM topic as well. It is also a part of the STEM engineering construction topic.
Find out more here about it.
What is Lego building? 
Lego is a type of plastic toys used for construction activities and it is manufactured by the LEGO Group. It is one of the most popular products by the company and is famous everywhere, all around the world.
They're basically plastic construction toys that can be used to make buildings Like a house or shop or a bridge. If you want to introduce your kids to construction, Legos are one of the best options.
Legos are small plastic bricks, and includes other pieces as well. Kids can use a combination of both to create structures.
What you Can Learn from Lego Building
As a parent, you want to know everything about a summer camp before you send your kids there. If you are wondering what is Lego building and how it can benefit your kid, you're in the right place.
Lego building involves a wide range of things. And it can help build the following skills in your children:
Building And Designing Skills
Enough has been said about Lego building. So, you can guess that Lego building will help your kids learn the skills like how to design and build things. For instance, in a Lego camps for kids, they will have activities involving constructing a building with other kids. This will help improve their designing skills. In other words, they will come up with the creative ideas on how to build a structure.
Creativity And Innovation
Construction is not just about drawing lines on paper and building a structure with bricks. It also needs a creative and problem-solving skills. For instance, first a builder needs to come up with a design idea.
Lego building can also help kids learn or improve problem-solving skills. It is a very important skill to learn. You give Lego pieces to the kids and explain how to build it. Then, the children will use their skills and also learn to work in a group.
A Lego Camp is an excellent way to help your kids become a good team player. Working in a team or a group is an important social skill. If your child is a shy or reserved by nature or doesn't know how to interact with others, a summer camp is a great option.
Developing social skills can help you help kids in the future. And, Lego building requires group participation and help them become an excellent team player.
Effective communication is important for so many things. Which is why, kids need to learn this skill early on. And, summer camps are designed to help kids develop excellent, communication skills. The same can be said about a Lego camps for kids.
In summer science camp, your child will learn how to communicate effectively with others. It will help them come up with great ideas to build a structure and apply their innovative ideas to actually build a structure.
5 Things Kids can Build and Learn With LEGO
In a Lego camp, kids can learn to build a wide range of things. Lego pieces can be used for building so many things. Here are the 5 things kids can build with Lego and improve their construction skills:
Building Famous Landmarks and Buildings
Lego pieces can be used to build a popular building or landmark, such as Eiffel Tower or the Statue of Liberty. Kids can build these buildings using Lego pieces. This is an excellent way to learn about most well-known structures in the world.
One of the most popular activities using a using Lego pieces as building a house. Lego pieces come in different colors and styles. Kids can use these pieces to build a house based on a design or from a reference photo. It can be a simple house or apartment building.
Lego pieces can also be used to design and build furniture like a chair, sofa, desk, table and others. It is also a fun way to learn about construction. Kids will not only have a lot of fun but they will also learn many skills.
Just like houses and furniture, kids can also build vehicles using Lego pieces. The piece can be used to build a wide range of vehicles like cars, trucks, bus and others.
Did you know that Legos can also be used to build machines like a printing machine, bulldozers, and espresso machine. Robotics is a popular STEM topic and Lego is an excellent way to learn about its application.
The Bottom Line
A summer camp can help your kid learn about STEM and in the process, learn various skills. Super Science for Kids offers summer camps for kids on a wide range of themes, including Legos.
More details here – https://www.superscienceforkids.com/our-programs/